How to Mine Electroneum
1 – Download the app (Google Play Store or Apple Play Store) to your device and create an account on the Electroneum website.
2 – Log into the app using your credentials.
3 – Go to the Miner tab at the bottom and click the Start Mining button.
That's it! Your phone will now start mining. It will show your hash rate (the speed at which your device is mining) as well as the pending balance (how many coins have been mined) on the screen.
How Much Power and Data Does the App Use?
I use the Electroneum application in the background on a Redmi 3 Smartphone and I don't feel any difference in the use of the mobile phone.
The application is quite light and the performance of the mobile phone stays the same. So it's worth having just always connected the application.
How Much Can I Expect to Mine?
That is, how fast your phone can mine relative to the average user's phone. If your hash rate is greater than around 30 H/s, you should earn slightly more than $3 worth of ETN per month.
How Electroneum's Referral System Works
The referral program works on a commission-based system where you (the referrer) gets a 5% ETN bonus based on what your referrals mine. This a bonus 5% on top of what your referrals are mining – it does not deduct from their mined total.
As an incentive for your referrals to use your code, they will also get a 1% bonus based on what they are mining.
For payments you need to mine 100 Etn.
In addition, referrals are for life. So every person you refer becomes a small but steady stream of passive income, provided they keep on mining.
How to Refer a Friend
Once their app is up and running, open the app on your own phone, go to the More tab, and tap Referral Program. Then tap the Show my Referral Code/QR button.

You'll now see your referral code with its corresponding QR code.
Now open the app on your friend's phone, go to the More tab, and tap Referral Program. Then tap on Enter a Code (if your friend has already entered a code, the app will display a message that a referral code has been used). Have your friend enter your code into their phone and click Submit.
OR
Alternatively, you can also scan the QR code using the camera on your friend's phone (press Allow if the app prompts you for permission to use the camera). You'll hear a beep when the scan has been successful.
How to Get Your Own 1% Bonus
Since I've now told you about Electroneum and it's referral program, you're welcome to use my referral code by creating an account and entering D7A6F9 as the referral code on your device (or scanning my QR code below) to enable your own 1.00% bonus. This is purely optional and would only serve as a thank-you to me.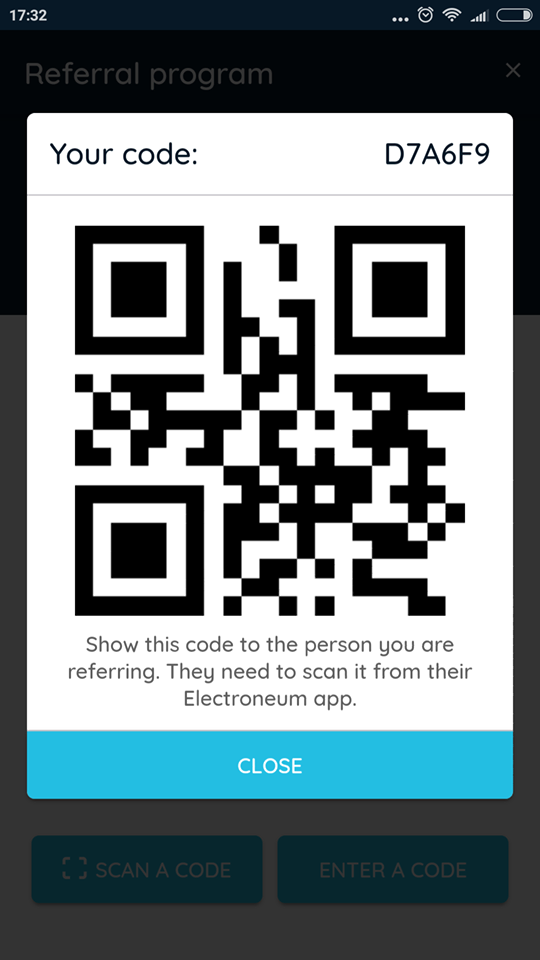 Steemit link tutorial: https://steemit.com/crypto/@portugalcoin/how-to-mine-electroneum-with-your-smartphone
Comments
comments